Around the Legion
Information on this page was last updated on the 11th of October 2019
In this section, you're going to find little bits of information from time to time about happenings, people, etc. "Around the Legion" so come back often to see who has been up to what or what items of interest may have occurred.
RECENT LEGION CALENDAR LOTTERY WINNERS.
11 Nov $300.00 Angela Bothner Special Draw - Remembrance Day
16 Nov $20.00 Susan Schmidt
23 Nov $20.00 Phoonam Dursun
30 Nov $20.00 Joyce Muir
7 Dec $20.00 Carol Stringfellow
14 Dec $20.00 Amil Minken
21 Dec $20.00 Sierra Cook
21 Dec $50.00 Darryl Niefer Special Draw - Legion #77 Birthday
25 Dec $50.00 Tom Cook Special Draw - Christmas Day
28 Dec $20.00 Barb Woytas
1 Jan $50.00 Sarah Holmberg Special Draw - New Year's Day
4 Jan $20.00 Kevin Stringfellow
11 Jan $20.00 Theresa Schmidt
18 Jan $20.00 Carol Smith
25 Jan $20.00 Vickie Tockar
1 Feb $20.00 Al Konkin
8 Feb $20.00 Judie Bernat
14 Feb $50.00 Karen Hierlihy Special Draw - Valentine's Day
15 Feb $20.00 Liela Falkowski
22 Feb $20.00 Tyler Bernard
1 Mar $20.00 Judy Buraka/Hans Madsen
8 Mar $20.00 Barb Woytas (2nd time winner!)
15 Mar $20.00 Jeanette Warrian
17 Mar $50.00 Kirk Haas Special Draw - St. Patrick's Day
22 Mar $20.00 Neil DeVries
29 Mar $20.00 Gayle Webster
5 Apr $20.00 Joyce Muir (2nd time winner!)
9 Apr $50.00 Debra Wilson Special Draw - Vimy Ridge Day
12 Apr $20.00 Virginia Kaczur
19 Apr $20.00 Peter Podouilnikoff
21 Apr $50.00 Sharon & Nellie Bucsis Queen's Birthday
26 Apr $20.00 Michelle Shabatoski
3 May $20.00 Carol Stringfellow (2nd time winner!)
8 May $50.00 Ruth Love Special Draw - VE Day
10 May $20.00 Wes Heuchert
12 May $50.00 Deb Coles Special Draw - Mother's Day
17 May $20.00 Susan Mandziuk
20 May $50.00 Staci Wyatt Special Draw - Victoria Day
24 May $20.00 Lisa Allin
31 May $20.00 Kim Rodgerson
6 June $50.00 Leon Marchenski Special Draw - D-Day
7 June $20.00 Genevieve Kurkowsky
14 June $20.00 Freda Hill
16 June $50.00 Carlene Kobylka Special Draw - Father's Day
21 June $20.00 Carol Stringfellow (3rd time winner!)
28 June $20.00 Gary Melynchuk
1 July $300.00 Tyler Bernard Canada Day (2nd time winner!)
5 July $20.00 Dwight Ford
12 July $20.00 Angela Bothner (2nd time winner!)
19 July $20.00 Staci Wyatt (2nd time winner!)
26 July $20.00 Mike Doll
2 Aug $20.00 Peter Kobylka
5 Aug $50.00 Theresa Schmidt (2nd time winner!) Civic Holiday
9 Aug $20.00 Kathy Gordon
16 Aug $20.00 Pat Warburton
23 Aug $20.00 Doris Maben
30 Aug $20.00 Julia Allin
2 Sept $50.00 Dave Chalus Special Draw - Labour Day
3 Sept $50.00 Launey Weitzel Special Draw - Navy Vet's Day
6 Sept $20.00 Erin Clifford
13 Sept $20.00 Mavis Lutz
20 Sept $20.00 Violet Woychesko
27 Sept $20.00 Ron Koropchuk
4 Oct $20.00 Bev Koropchuk
11 Oct $20.00 Murray Arnold
LIBERATION 75 TULIPS. The Liberation 75 Commemorative Planting Campaign is underway. The goal is to cover the country in 1.1 million Liberation 75 Tulips in honour of the 1.1 million Canadians who served during the Second World War. (Additional information is available via internet at liberation75.ca.)
On Tuesday, 8 October 2019, Grade 10 History students from Yorkton Regional High School planted Liberation 75 tulips at the cenotaph on Darlington and then in the afternoon at the City Cemetery, as pictured below.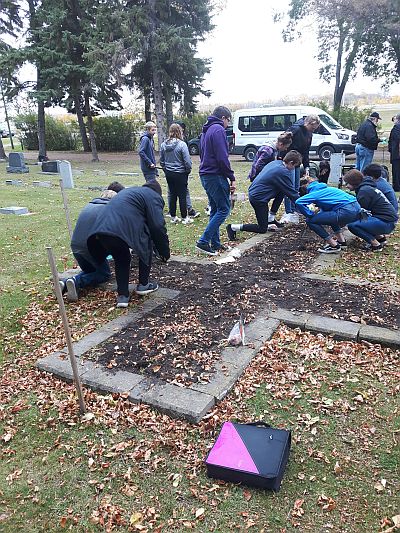 REQUEST FOR INFORMATION. We have been approached with a request for information on a fellow by the name of Adam Burkardt. He used to work at the old curling club and he lived on Tupper Ave. This is going back many years. If, by chance, you remember this man or have any information you can pass on, please contact our office by phone or email. A relative of his is looking for some history on him.
YORKTON & DISTRICT PIPE BAND CERTIFICATE OF APPRECIATION/HONORARIUM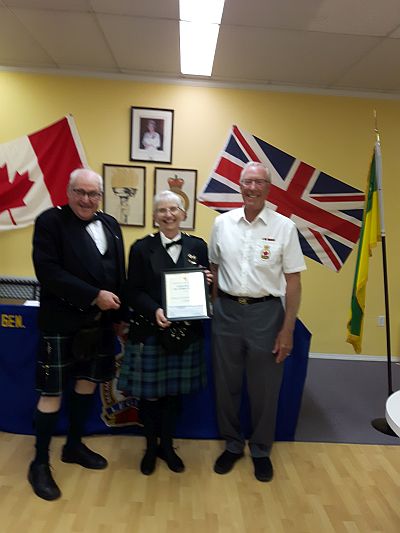 At the General Meeting 18 September 2019, the Yorkton & District Pipe Band were presented with a Certificate of Appreciation and an honorarium in the amount of $1,000.00 in thanks for their many past and future years of service to our Legion. Pictured are Dave Gillard and Ferne Katzberg with Branch President Barry Whitehead.
POPPY PLANT. Thank you to the gentleman who stopped in with this poppy plant he grew for us. The seeds came from Flanders Fields. Much appreciated.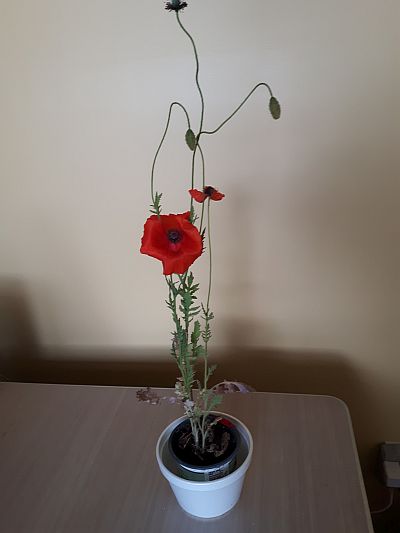 BRANCH GENERAL MEETING. The next General Meeting will be 30 October 2019 at 1900 hours. Thank you for your attendance.
LOUNGE. Unless otherwise posted, the Legion Lounge will be open every Saturday. Meat draws will be held at approximately 5:00. The number of meat draws (maximum 10) will be dependent on the number of guests we have and the number of tickets sold. Tickets are $5.00 for a strip of five tickets. The lounge opens at 3:00 p.m.
Weather permitting, and depending on volunteers available, barbequed smokies and hamburgers will be available on Saturdays during the summer months. The barbeque is fired up at 3 p.m. and goes until 5 p.m. or a bit longer, depending on the crowd. Cost is $5.00 per burger/smokie. Come on out and participate in our meat draws, 50/50 draw and barbeque! Barbeques will continue until the weather gets too cold.
LIFE MEMBERSHIP PRESENTATIONS. On 22 May 2019, two of our comrades were presented with life memberships:
PETER WYATT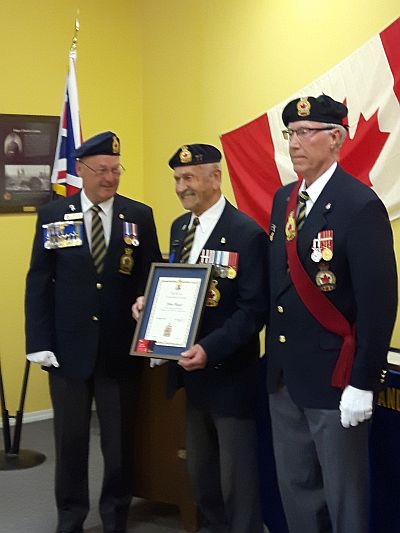 Peter became a member of the Yorkton branch in 1995, having been a member in Fredericton NB and Chilliwack BC prior. He enlisted into the Military Police at the age of 25, serving in Canada, Germany and Cyprus. Medals awarded during his service were: 1968 Cyprus (United Nations) and Centennial; 1970 Canadian Declaration; 2000 Peace Keeping. He later joined the militia, army cadets and later was CEO of the Navy League (Sea Cadets). Within our branch, he held multiple offices including President and Sgt. at Arms as well as serving on various committees spanning over 18 years. Today, he is still active in the branch as Sgt. at Arms and part of our Executive membership. Pictured are Ken Box (Provincial Command Honours and Awards Committee Member) and Barry Whitehead (Branch President) with Comrade Wyatt.
ED ST. PIERRE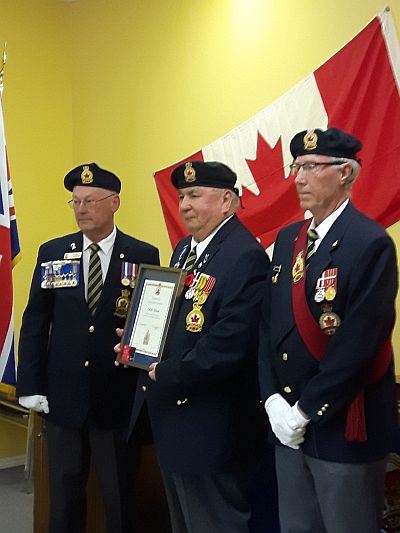 Ed became a member of the Yorkton branch in 2001. He served in the Canadian forces from 1954 to 1969 as an Army Warrant Officer and was awarded the Canadian Decoration Medal and Honourable Service Medal. He served in Germany and Canada. Upon discharge, he was employed with Veterans Affairs for 14 years. In 2001, he took charge of the Service Officer position within our Legion, which he still does to this day. Over the years, he has held all Executive positions, working up to President. Pictured are Ken Box (Provincial Command Honours and Awards Committee Member) and Barry Whitehead (Branch President) with Comrade St. Pierre.
As an aside, Ed was invited by Veterans Affairs to travel to Normandy for D-Day this year.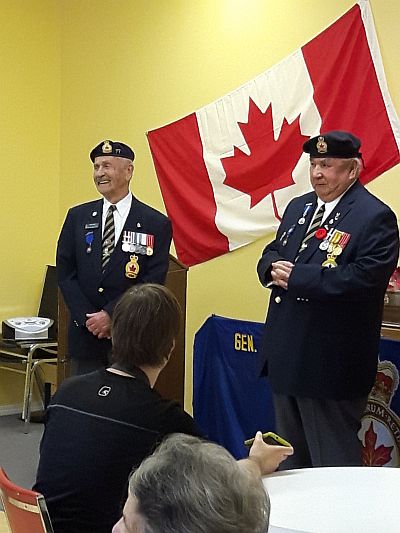 Life Members Comrade Peter Wyatt and Comrade Ed St. Pierre
GUESTS AT 24 APRIL 2019 GENERAL MEETING.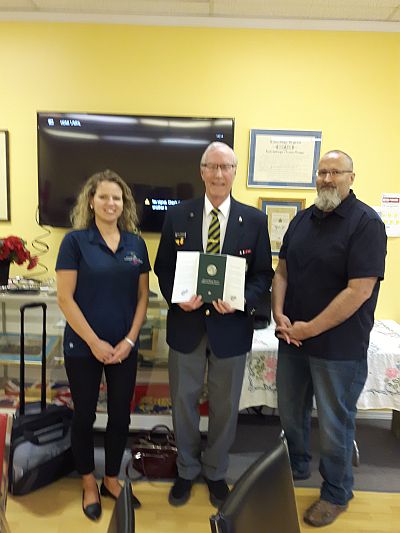 At the General Meeting 24 April 2019, representatives from Moose Jaw Military Family Resource Centre discussed their programs and services with a video presentation. They presented the branch with a Spirit of Military Families Medal. Our branch supports them every year through a donation from the Poppy Trust Fund. Pictured with Branch President Barry Whitehead and Lisa and Regan.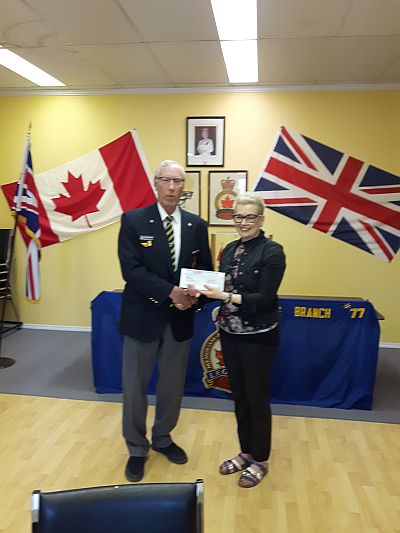 Carolee from Aspen Bluffs Nursing Home was introduced by Branch President Barry Whitehead and presented with a cheque in the amount of $2,000.00 from Poppy Trust to assist in the purchase of a new lift for their residents.
CANADIAN WAR CEMETERY HOLTEN, NETHERLANDS:
Can you help with the ICB interview project which is trying to find families of soldiers who fell in World War II and are buried in the Holten Canadian War Cemetery in the Netherlands?
We are looking for information on Rfn George S. Wilson from Yorkton who served with the Royal Winnipeg Rifles Regiment, Registration No. L/108421, date of death April 10, 1945. If you have any information on this rifleman, please contact the Legion office at 306-783-9789 or by email at branch77yorkton@gmail.com.
The year 2020 will mark the 75th Liberation Anniversary for May 5, 1945, a Dutch ceremony honouring those Canadians who fell in World War II liberating the Netherlands.
The Information Centre Canadian War Cemetery (ICB) in Holten, Netherlands is planning to interview relatives (siblings, spouses, children, other relatives, friends) of deceased soldiers who are buried in Holten. Plans are to visit the interviewees at their homes in Canada.
POPPY TRUST DONATIONS:
On Wednesday the 27th of February 2019, Comrade President Barry Whitehead presented Ross Fisher of the Health Foundation a cheque in the amount of $5,000.00 to aid in the purchase of new medical equipment.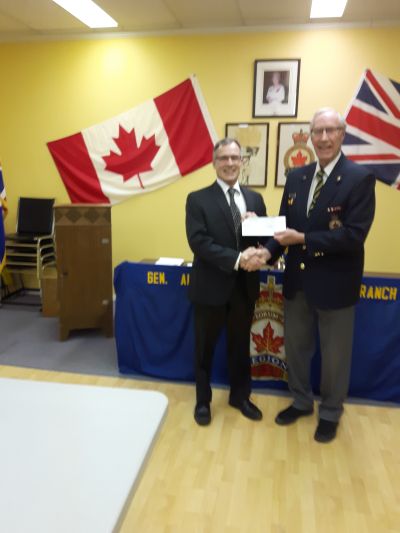 On the 23rd of January 2019, Comrade President Barry Whitehead presented the following donations from the Poppy Trust account in the amount of $1,000.00 each to:
YORKTON AIR CADETS - CAPT. TERRY ERITZ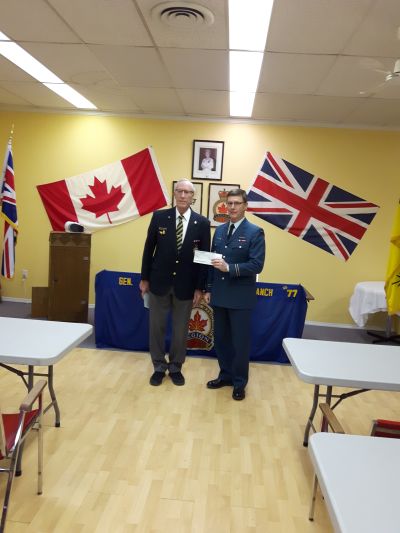 YORKTON ARMY CADETS - CAPT. COLIN MCINNES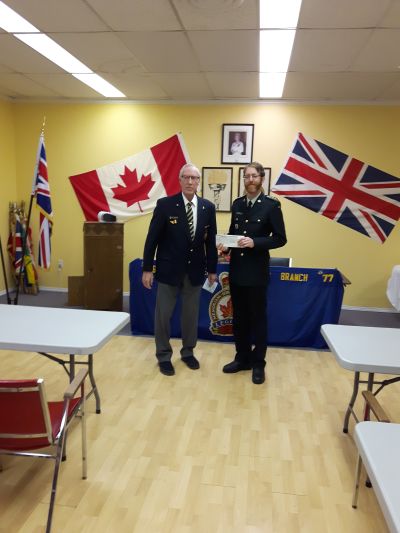 YORKTON NAVY LEAGUE - MIDSHIPMAN COREY ANDERSON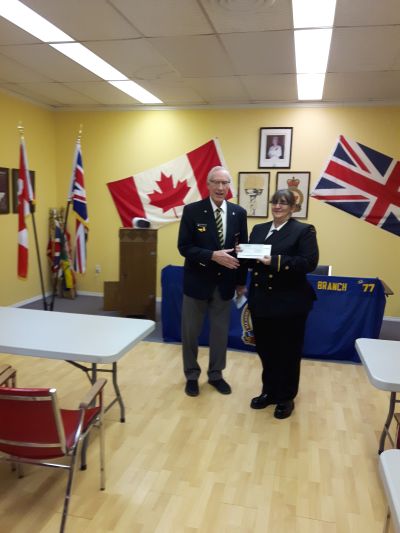 SIGN - LAUNEY WEITZEL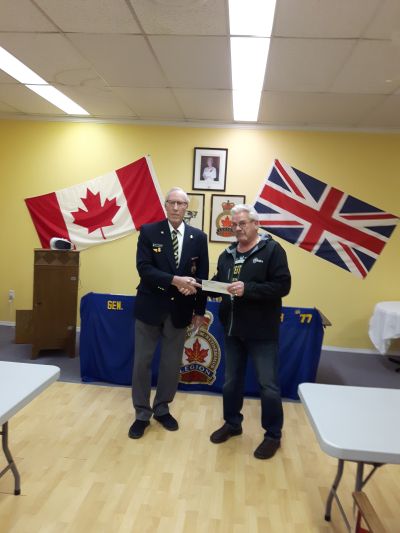 MEALS ON WHEELS - DONNA BRENNER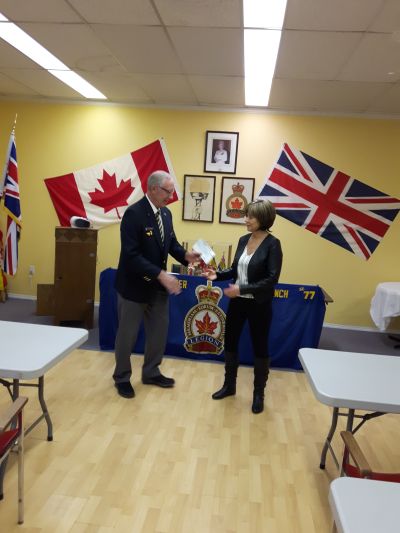 SASKTEL PIONEERS PRESENTATION. Thank you to the SaskTel Pioneers for their generous donation to our Legion. From left to right are Dave Roberts from SaskTel Pioneers, Legion 1st Vice President Ken Gordon and SaskTel Pioneers President John McMurdo.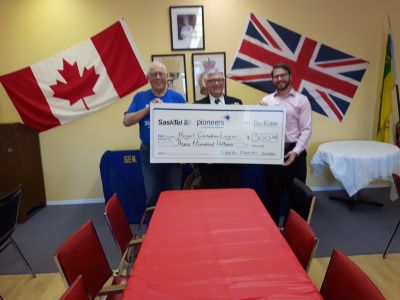 KIDS HELPING VETS. Students from St Paul's school recently helped the Legion with Poppy campaign activities by filling poppy bags for Citywide distribution. In addition to the very helpful students, also in the picture are St. Paul's principal Mr. Quinn Haider, and Legion members Bill Stubbings and Peter Wyatt. We also wish to thank students from Sacred Heart High School and Columbia school for their support and help with the Poppy campaign activities recently.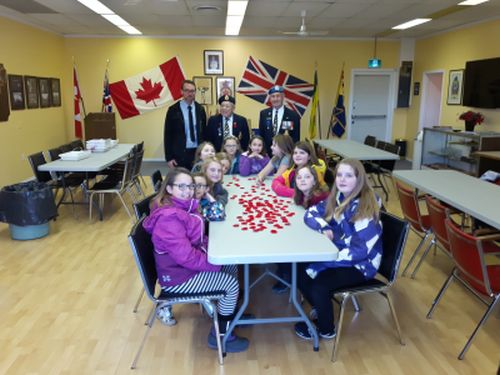 CAIRN UNVEILING AND DEDICATION. The cairn, which was formally located at the old Legion building on Broadway, was relocated complete with a new flagpole to the boulevard on Darlington Street close to Second Avenue. The rededication services were held at 1100 hours on the 13th of October 2018.