In this section, you're going to find little bits of information from time to time about happenings, people, etc. "Around the Legion" so come back often to see who has been up to what or what items of interest may have occurred.
BRANCH GENERAL MEETING. All General Meetings have been cancelled until further notice.
LOUNGE. Due to coronavirus concerns, all Saturday events are cancelled until further notice. Thank you for your understanding and prior attendance to our functions. Hopefully, we'll be up and running again soon.
SALVATION ARMY DONATION. Tuesday, 31 March 2020, Comrade President Ken Gordon met with Lieutenant Samuel Tim from the Yorkton Salvation Army to present a $1,000.00 cheque towards the food bank. We are grateful for the Salvation Army's assistance to our Veterans, families and citizens of Yorkton and area, especially during this coronavirus pandemic.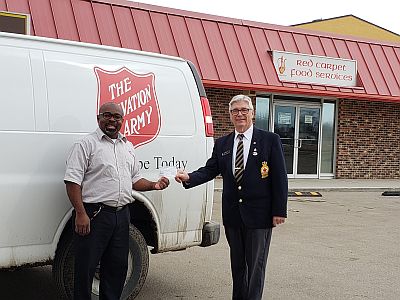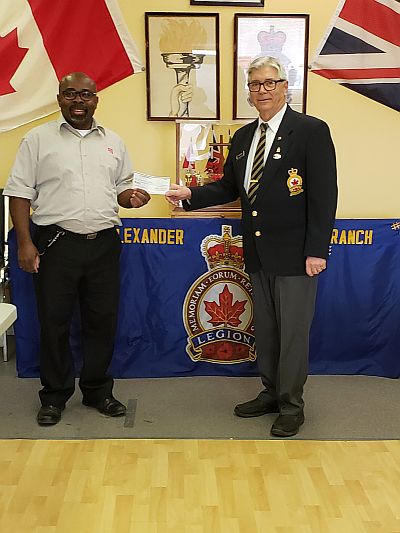 VALENTINE'S PARTY. Friday, 14 February 2020, grade one students from St. Paul's School visited with members of our Legion in celebration of Valentine's Day. The students spoke with our Veterans and members and entertained them with songs and Valentines. Cookies were shared. All had a wonderful time.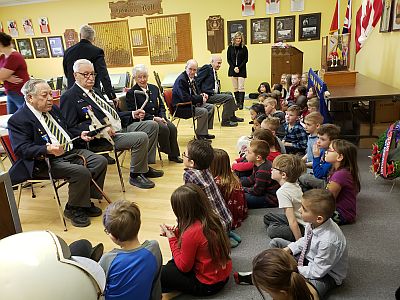 Chatting with the students.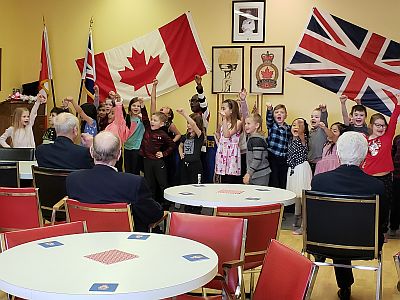 Entertainment!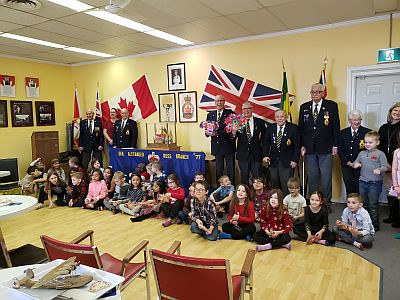 Group picture.
VOLUNTEER APPRECIATION DINNER. Sunday, 16 February 2020, the Legion hosted a volunteer appreciation supper for all volunteers who assist us with the running of our lounge, Veterans week campaign, Remembrance Day Ceremony, D Day and a multitude of other volunteer activities. We appreciate each and every one of you. Thank you!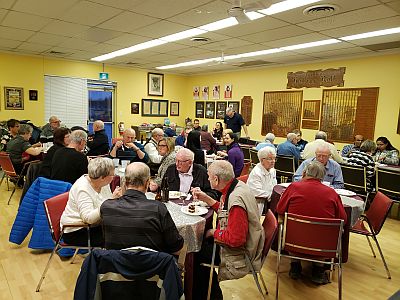 POPPY TRUST DONATIONS. At the General Meeting 29 January 2020, Poppy Trust Fund donations in the amount of $1,000.00 were presented to the following:
TERRY ERITZ ON BEHALF OF AIR CADETS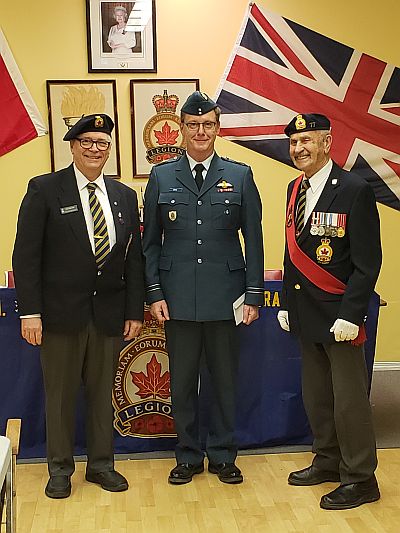 COLIN MCINNES AND LIELA FALKOWSKI ON BEHALF OF ARMY CADETS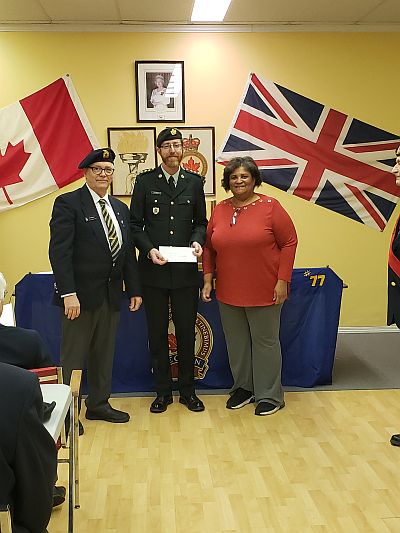 COREY ANDERSON ON BEHALF OF NAVY LEAGUE CADETS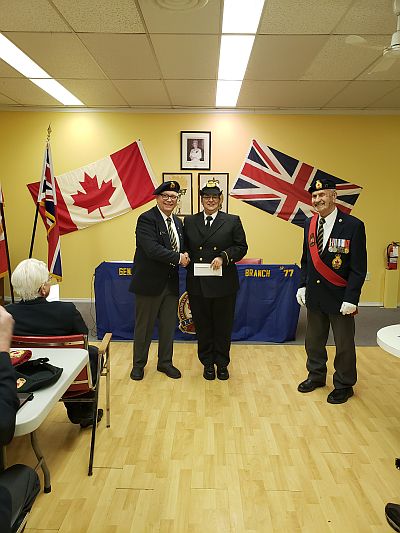 DONNA BRENNER ON BEHALF OF MEALS ON WHEELS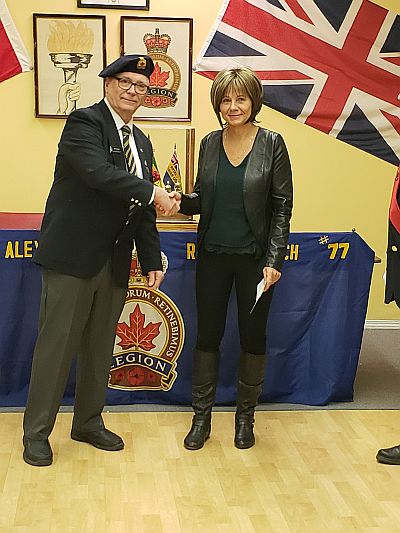 LAUNEY WEITZEL ON BEHALF OF SIGN SENIOR MOBILITY PROGRAM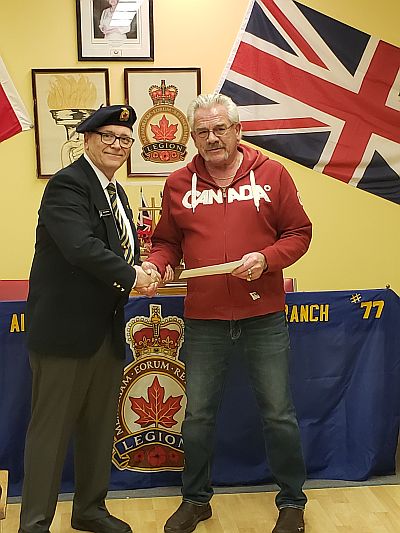 SHERRING OPTICAL DONATION. We extend our sincere thanks to Sherring Optical for their generous donation in the amount of $1,000.00. This will go towards the general operation of our branch and support of our community.
LEGACY CO-OP DONATION. On Wednesday, 16 October 2019, Yorkton Legacy Co-op made a donation to our Legion from barbeque fundraisers they held over the summer. This is greatly appreciated by our Executive and members. Thank you Legacy Co-op!
Pictured from left to right are Reagan McLelland, Grocery Manager, Comrade Barry Whitehead, Branch President and Comrade Ken Gordon, 1st Vice-President.
LIBERATION 75 TULIPS. The Liberation 75 Commemorative Planting Campaign is underway. The goal is to cover the country in 1.1 million Liberation 75 Tulips in honour of the 1.1 million Canadians who served during the Second World War. (Additional information is available via internet at liberation75.ca.)
On Tuesday, 8 October 2019, Grade 10 History students from Yorkton Regional High School planted Liberation 75 tulips at the cenotaph on Darlington and then in the afternoon at the City Cemetery, as pictured below.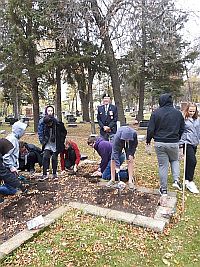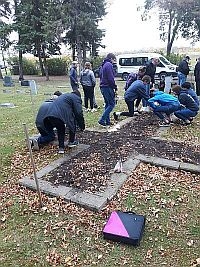 YORKTON & DISTRICT PIPE BAND CERTIFICATE OF APPRECIATION/HONORARIUM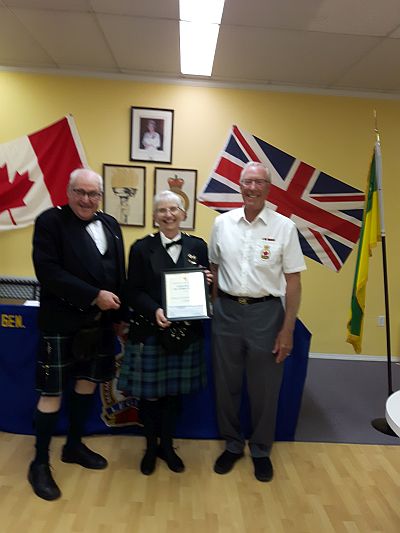 At the General Meeting 18 September 2019, the Yorkton & District Pipe Band were presented with a Certificate of Appreciation and an honorarium in the amount of $1,000.00 in thanks for their many past and future years of service to our Legion. Pictured are Dave Gillard and Ferne Katzberg with Branch President Barry Whitehead.
LIFE MEMBERSHIP PRESENTATIONS. On 22 May 2019, two of our comrades were presented with life memberships:
PETER WYATT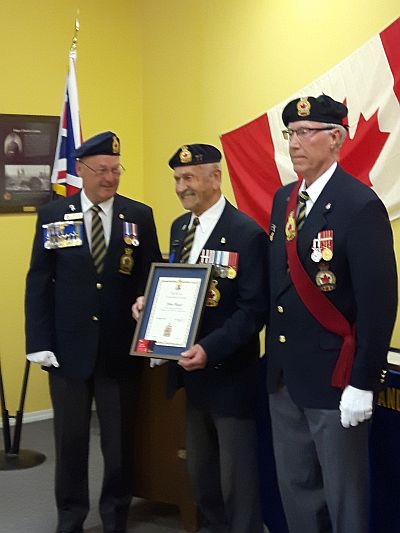 Peter became a member of the Yorkton branch in 1995, having been a member in Fredericton NB and Chilliwack BC prior. He enlisted into the Military Police at the age of 25, serving in Canada, Germany and Cyprus. Medals awarded during his service were: 1968 Cyprus (United Nations) and Centennial; 1970 Canadian Declaration; 2000 Peace Keeping. He later joined the militia, army cadets and later was CEO of the Navy League (Sea Cadets). Within our branch, he held multiple offices including President and Sgt. at Arms as well as serving on various committees spanning over 18 years. Today, he is still active in the branch as Sgt. at Arms and part of our Executive membership. Pictured are Ken Box (Provincial Command Honours and Awards Committee Member) and Barry Whitehead (Branch President) with Comrade Wyatt.
ED ST. PIERRE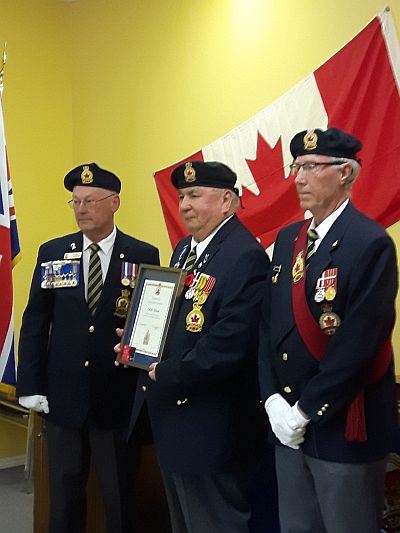 Ed became a member of the Yorkton branch in 2001. He served in the Canadian forces from 1954 to 1969 as an Army Warrant Officer and was awarded the Canadian Decoration Medal and Honourable Service Medal. He served in Germany and Canada. Upon discharge, he was employed with Veterans Affairs for 14 years. In 2001, he took charge of the Service Officer position within our Legion, which he still does to this day. Over the years, he has held all Executive positions, working up to President. Pictured are Ken Box (Provincial Command Honours and Awards Committee Member) and Barry Whitehead (Branch President) with Comrade St. Pierre.
As an aside, Ed was invited by Veterans Affairs to travel to Normandy for D-Day this year.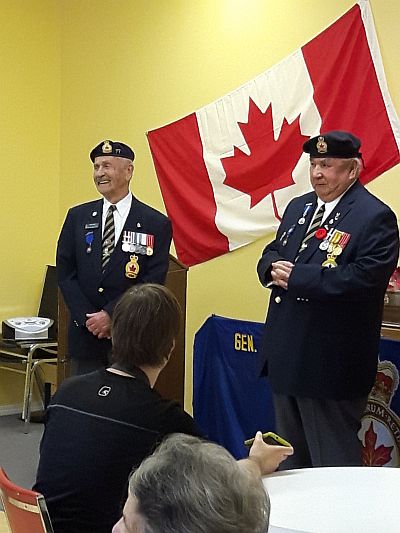 Life Members Comrade Peter Wyatt and Comrade Ed St. Pierre