Around the Legion
Information on this page was last updated on the 14th of December 2018
In this section, you're going to find little bits of information from time to time about happenings, people, etc. "Around the Legion" so come back often to see who has been up to what or what items of interest may have occurred.
RECENT LEGION CALANDER LOTTERY WINNERS. The 2019 Legion Calander Lotto has started and the following are among the first round of winners.
11 Nov $300.00 Angela Bothner
16 Nov $20.00 Susan Schmidt
23 Nov $20.00 Phoonam Dursun
30 Nov $20.00 Joyce Muir
7 Dec $20.00 Carol Stringfellow
14 Dec $20.00 Amil Minken
BRANCH GENERAL MEETING. The next scheduled General meeting will be held on Wed the 23rd of January 2019 at 7:00 p.m.
LOUNGE OPEN. The Lounge will be open at 3 p.m. this upcoming Saturday, the 15th of December. Come on out and support the Legion and enjoy the excellent bar services. For the Christmas season, the meat draws for this day will be turkeys and hams. Other raffles will be part of the festivities. We look forward to seeing you there!
HOLIDAY HOURS. The Legion office will be closed from December 22, 2018 until January 2, 2019. The lounge will be closed on December 22 but will be open on December 29 and Saturdays thereafter. The lounge opens at 3:00 p.m.
KIDS HELPING VETS. Students from St Paul's school recently helped the Legion with Poppy campaign activities by filling poppy bags for Citywide distribution. In addition to the very helpful students, also in the picture are St. Paul's principal Mr. Quinn Haider, and Legion members Bill Stubbings and Peter Wyatt. We also wish to thank students from Sacred Heart High School and Columbia school for their support and help with the Poppy campaign activities recently.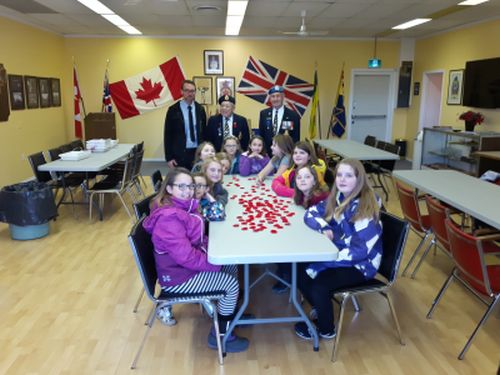 CAIRN UNVEILING AND DEDICATION. The cairn which was formally located at the old Legion building on Broadway has been relocated complete with a new flagpole to the boulevard on Darlington Street close to Second Avenue. The rededication services were held at 11AM on the 13th of October 2018.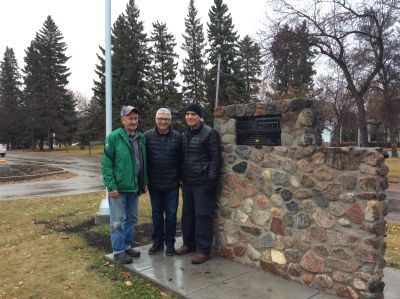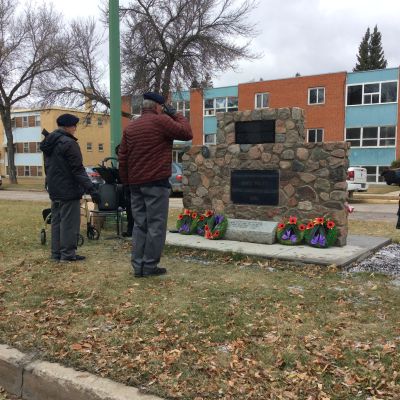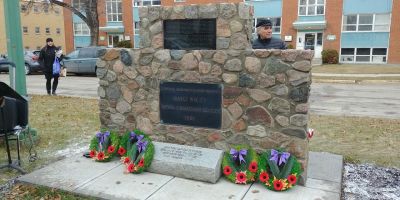 2019 MEMBERSHIP RENEWALS. Membership renewals for 2019 are now available at the office. The price is the same as last year - $50.00. Why not do your renewal today? We're open for renewals on Mondays, Wednesdays and Fridays from 9 till noon.
AN AFTERNOON OF GOOD FELLOWSHIP. Back in September, the Legion hosted an afternoon tea for veterans and friends. The event was well attended and everyone had a great time. We are hoping to host many more of these events in our new facilities in the future.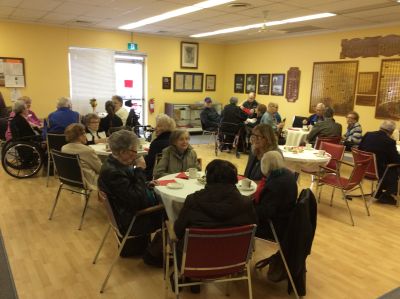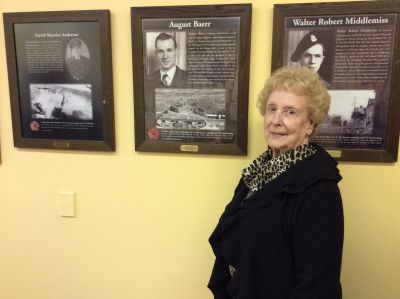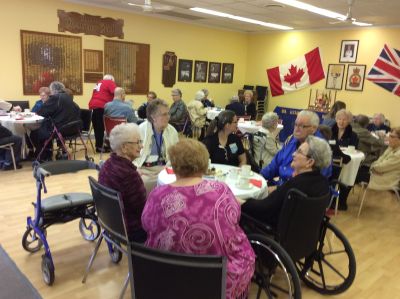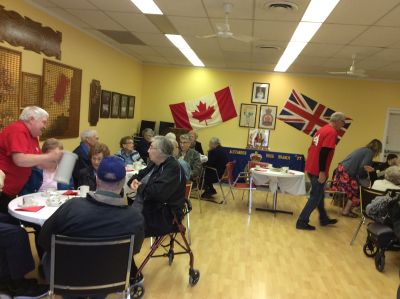 OFFICIAL RE-OPENING. On Friday the 24th of August, the General Alexander Ross Branch of the Royal Canadian Legion Branch #77 Yorkton, conducted an official re-opening ceremony at its new location on Parkview Road. In attendance and helping with the official ribbon cutting were from left to right: President Barry Whitehead, representing our federal Member of Parliament, Kathleen Gibson, Mayor Bob Maloney and Legion Executive Member Ken Gordon.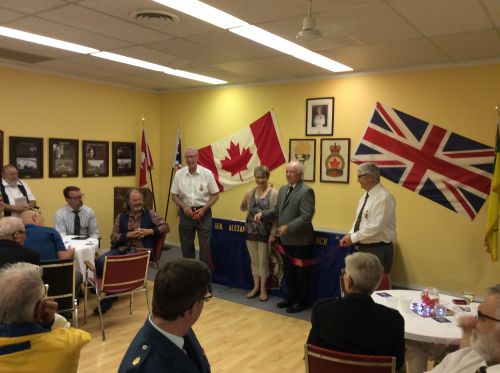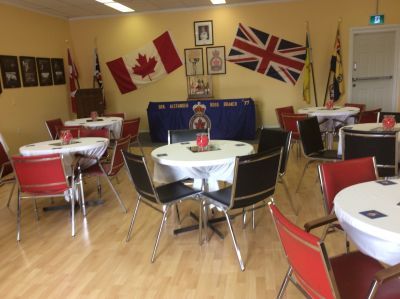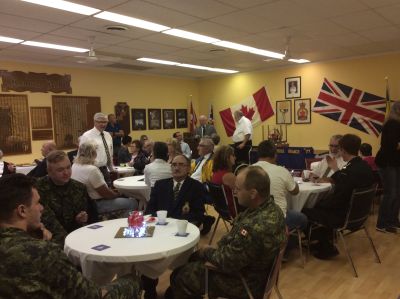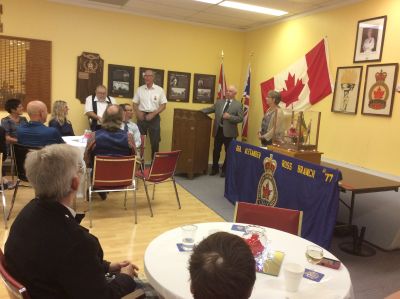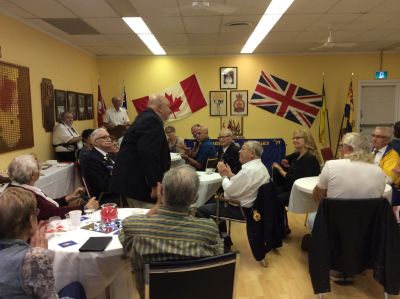 D-DAY THANK YOU'S.The Royal Canadian Legion, General Alexander Ross Branch #77, wishes to thank the community of Yorkton for preserving and participating in our D Day parade and service. Special thanks go out to Mr. Perry Ostapowich and his grade 10 history students from the Yorkton Regional High School for cleaning veterans' headstones in preparation for D Day.(new photos attached.) Thank you to members of the Yorkton Navy League and Yorkton Army Cadets for cleaning the headstones at Yorkton Memorial Gardens and to Bailey's Funeral Home for their assistance. Thank you to Brooks Washenfelder for the safekeeping of our crosses and wreaths at Awesome Rides. Once again Thank You to all. Lest we forget.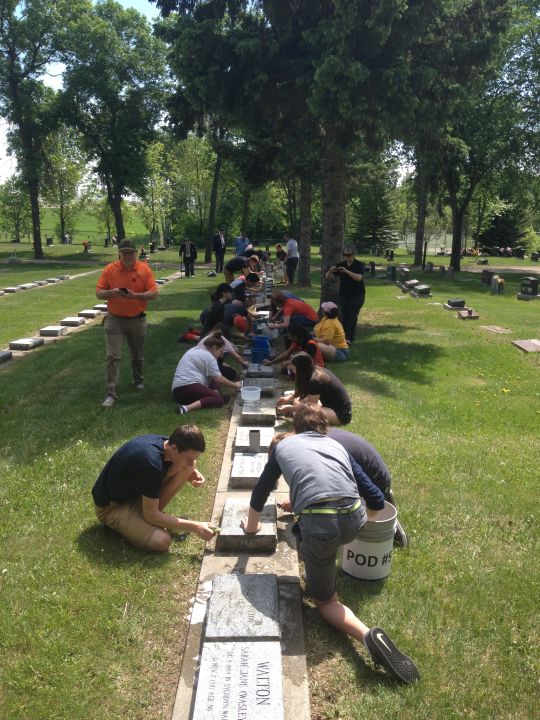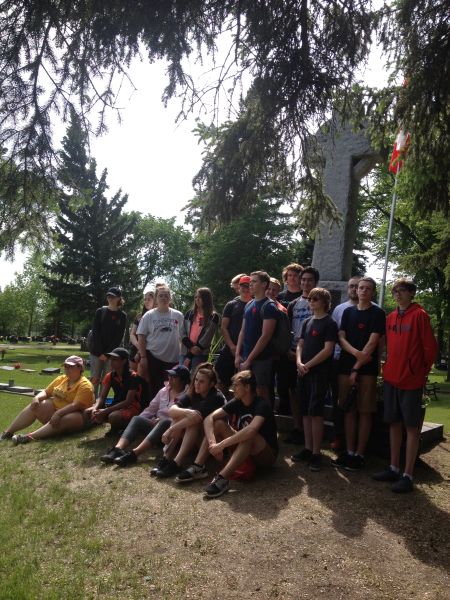 SPECIAL DONATION TO THE LEGION. A sincere thank-you to Information Services Corporation in Yorkton for their recent donation of $2000.00 to theYorkton Legion. Why did ICS make this donation?
ICS takes pride in giving back to our communities and they passionately support organizations that make a difference to the people and places they serve. Each year ICS employees at their locations throughout Saskatchewan select a charitable organization to support as part of the ICS Community Investment Program This year ICS Yorkton Customer Service Centre has chosen the Royal Canadian Legion Yorkton as the recipient of a $2000.00 donation on behalf of ICS.
Pictured in the attached photo donating the cheque on behalf of ICS Yorkton is Polly Bunzenmeyer. Receiving the cheque are Comrades Iris Matsalla and Branch President Barry Whitehead.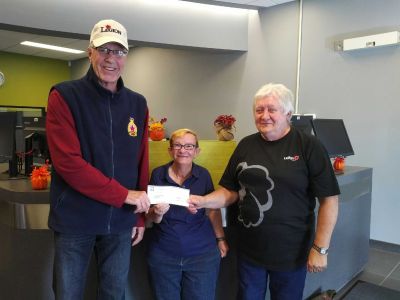 SPECIAL PRESENTATION. The Yorkton Arts Council recently hosted a presentation of Jakes Gift, a one-act play put on by Julia Mackey about a World War 2 Veteran returning to Juno Beach for the 60th-anniversary celebrations. Members of the Yorkton Legion were invited to attend and at the end of the play Comrade, Bill Stubbings accepted a presentation of a beautiful print on behalf of the Legion. Bill definitely looked quite happy about receiving the special print and the kiss.
To learn more about Jakes Gift just google Jakes Gift and follow the links.