Vimy Ridge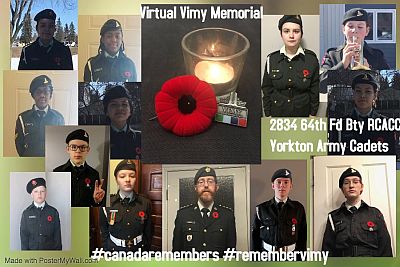 April 9, 2020, cadets from 2834 CACC participated in the nation-wide #virtualvimy, a safe way to remember the Battle of Vimy Ridge.
Many Canadian historians consider this to be the event that marked "the coming of age" of Canada as a truly independent nation, in contrast to an independent colony in the British Commonwealth.
The Canadian War Museum website has an excellent feature at Battle of Vimy Ridge. Veterans Affairs Canada also has special, commemorative information at Canadian National Vimy Memorial and Canada in the First World War - Road to Vimy Ridge.
History Television regularly airs For King and Empire a popular Norm Christie documentary. Vimy Ridge Remembered is also featured on the CBC website. Finally, Histor!ca, The Canadian Encyclopedia has an interesting article.
Library and Archives Canada has a enitre section Canada and the First World War that includes War Diaries - Vimy Ridge.
Did you have a relative or ancestor who served at Vimy Ridge or was a member of the Canadian Expeditionary Force in World War I? If so, check the Library and Archives Canada website for an online, searchable database for recruitment information for over 600,000 persons that enlisted. See, Soldiers of the First World War - CEF.
Other historical links include: The Great War - Vimy Ridge and Battle of Vimy Ridge (from Canada and the Great War Website).
For related information, see Remembrance Week