Remembrance Week 2019
2019 REMEMBRANCE ACTIVITIES
Thank you to all who came out to our Remembrance Day service. The turnout was one of the largest in recent years.
There was a sash left at the Gallagher Centre luncheon which we have at the Legion office. If it is yours, please call the Legion at 306-783-9789 or email us at branch77yorkton@gmail.com to claim the sash, pictured below.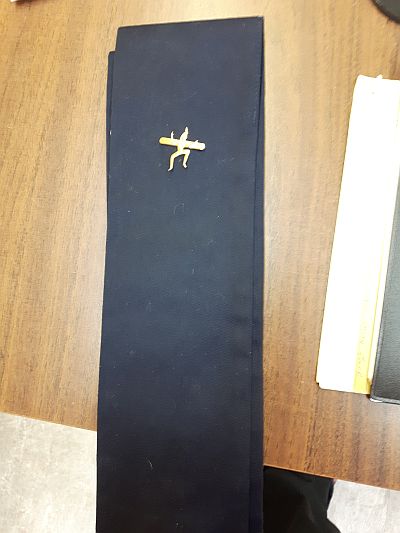 STUDENT PARTICIPATION IN REMEMBRANCE ACTIVITIES
Again this year, St. Paul's School assisted us by counting poppies, putting on poppy keepers and bagging them in preparation for Tag Day and trays going out to Yorkton and area businesses. They chose to deliver the poppies to our Legion premises Friday, the 25th of October, and meet with some of our Veterans.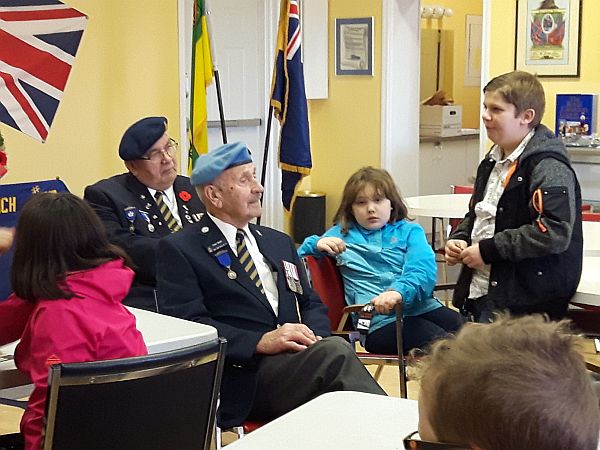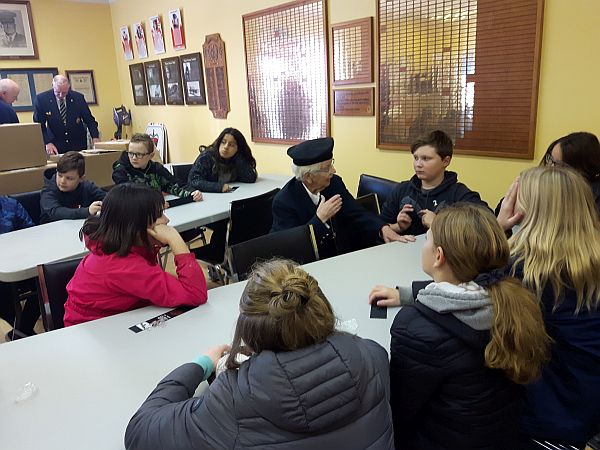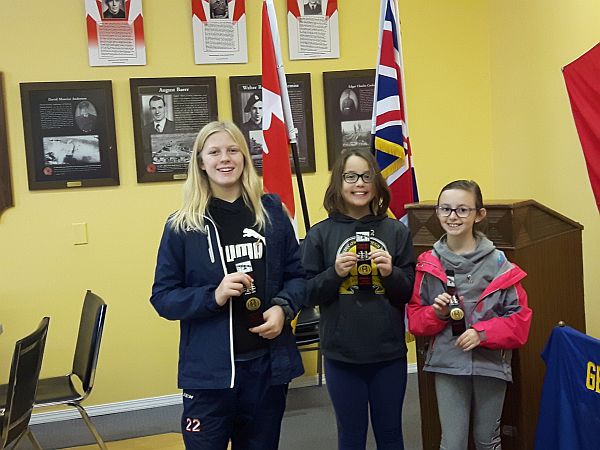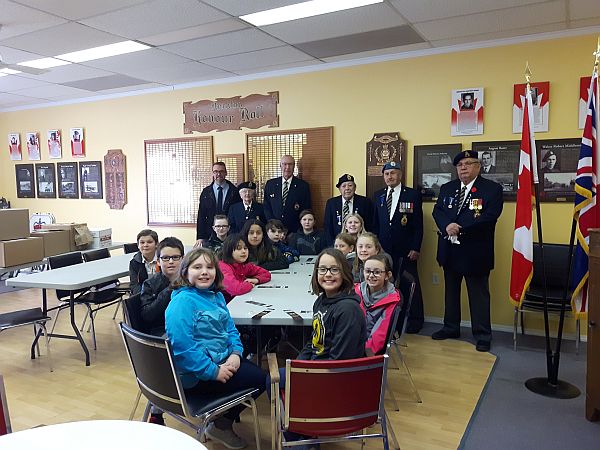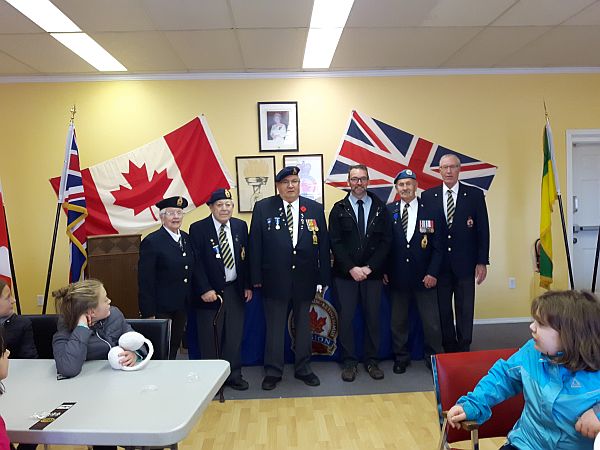 We are very grateful for the students participating in our Remembrance Activities in this way. Along with St. Paul's School, Columbia School and Sacred Heart High School also counted poppies, put on poppy keepers and bagged the poppies. We extend our appreciation to these students.
SCOUTS DONATION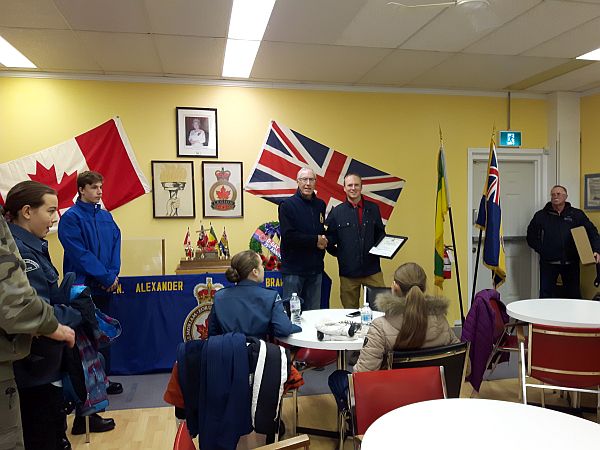 On 26 October, 2019, Scouts Zion 8th Group were presented with a cheque in the amount of $1,000.00 for their ongoing help throughout the year. Above is Comrade Barry Whitehead, Branch President presenting the cheque to Scout Leader Tyler Skowronski.
FIRST POPPY PINNED ON SILVER CROSS MOTHER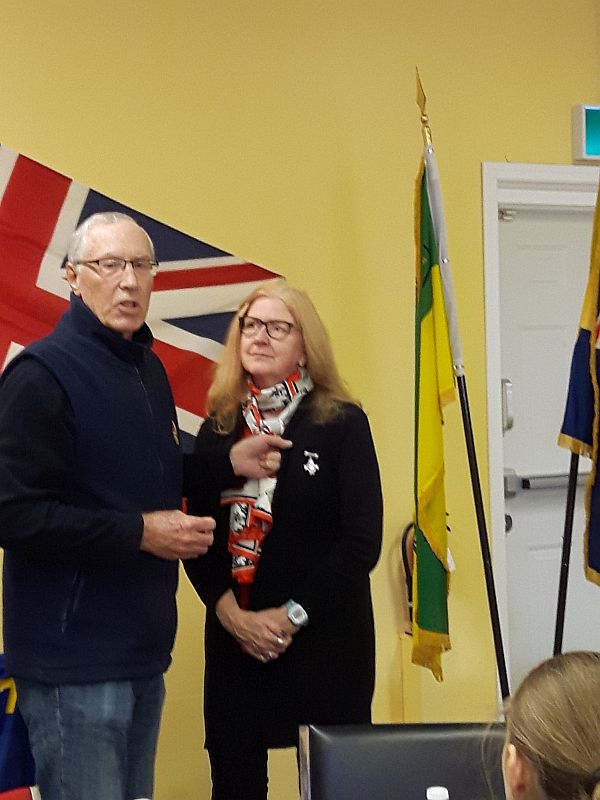 Tag Day 26 October, 2019 our Silver Cross Mother, Bonnie Rushowick, was presented with the first poppy in Yorkton. Above, Comrade Barry Whitehead pins the poppy on our Silver Cross Mother.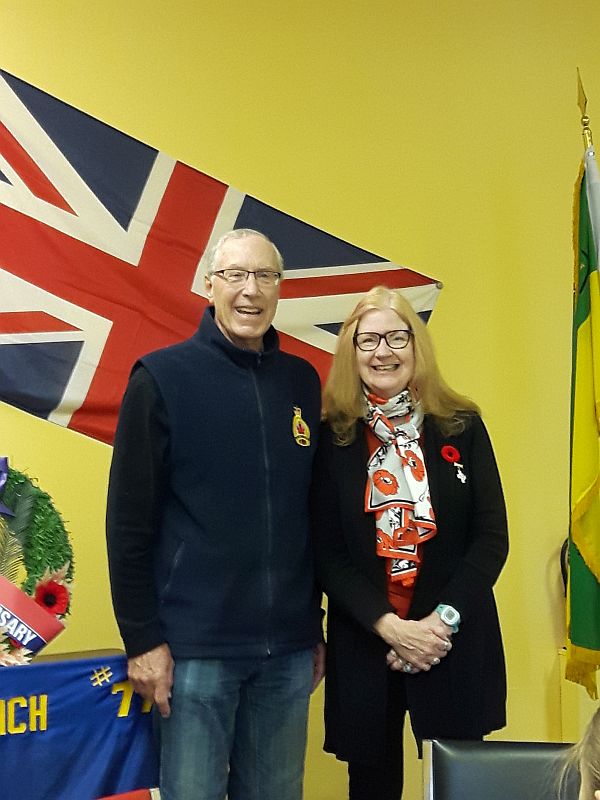 TAG DAY 26 OCTOBER 2019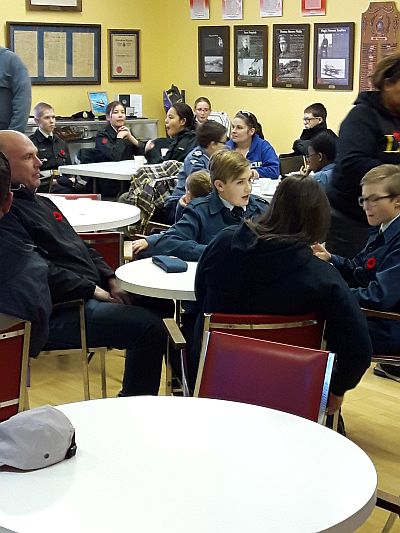 Before going out with poppies.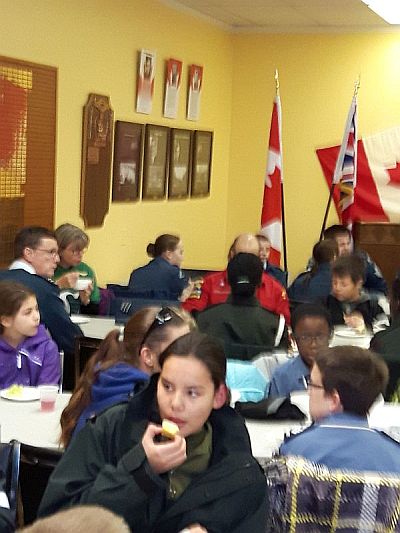 Tag Day Luncheon
Thank you to all the army cadets, navy league cadets, air cadets and scouts and cubs who went out canvassing for poppy donations on this cold day. We appreciate your assistance.
2019 REMEMBRANCE TEA
Monday 4 November 2019, the Legion hosted the 2019 Remembrance Tea. We had the privilege of having Brittany Johnson, a new member and granddaughter of a veteran, show a slideshow and speak on her experiences visiting WWI battlefield sites. She also is assisting the Legion in cataloguing items we have in our showcases at the Legion as well as memorabilia we have in our storage unit.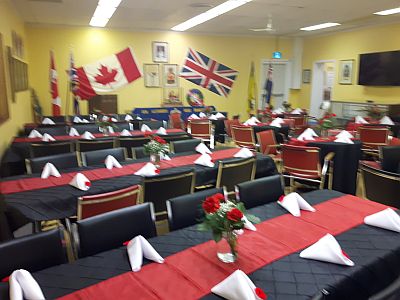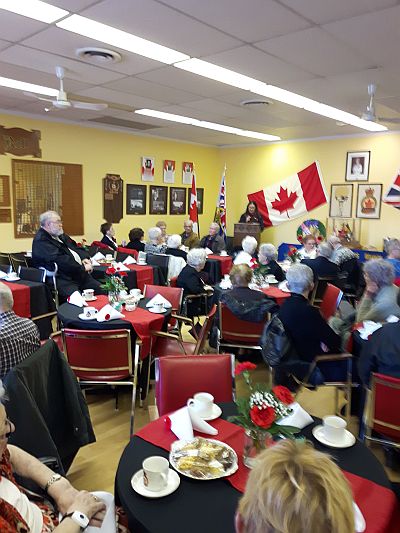 FLAG RAISING CEREMONY TUESDAY 5 NOVEMBER 2019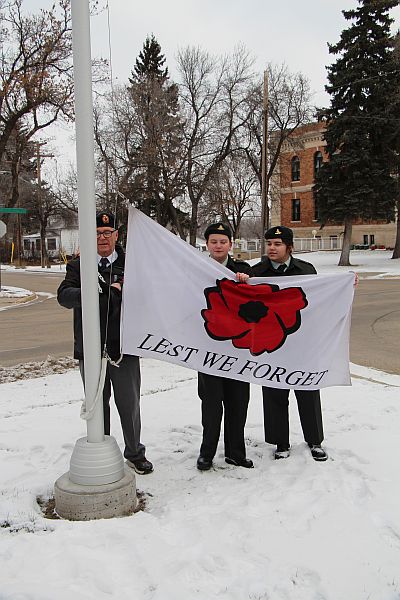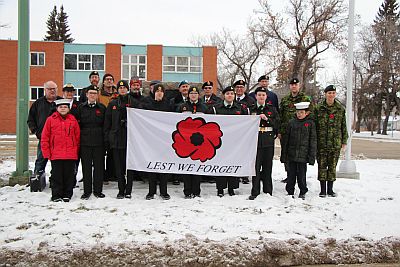 2018 POPPY CAMPAIGN REPORT
Our 2018 Poppy Campaign was very successful.
Wreath Donations $12,008.99
Tag Day and Poppy Donations $21,119.30
Wristband Sales $ 168.50
TOTAL $33,296.79
Of this money, thus far, we have presented $14,000.00 in support the following organizations:
The Health Foundation $ 5,000.00
Yorkton Air Cadets $ 1,000.00
Yorkton Army Cadets $ 1,000.00
Yorkton Navy League $ 1,000.00
SIGN Senior Mobility Program $ 1,000.00
Meals on Wheels - Yorkton $ 1,000.00
Leave the Streets Behind $ 1,000.00
Discovering the Power in Me $ 1,000.00
Moose Jaw Family Resource Centre $ 1,000.00
Dundurn Family Resource Centre $ 1,000.00
Eight bursaries in the amount of $750.00 were awarded to Yorkton Regional High School and Sacred Heart High School students at their 2019 graduation ceremonies.